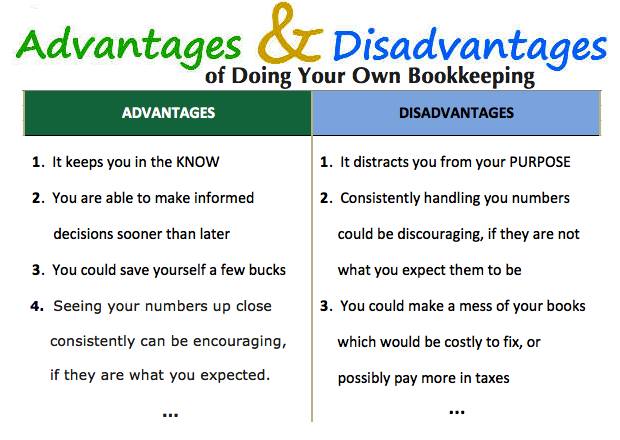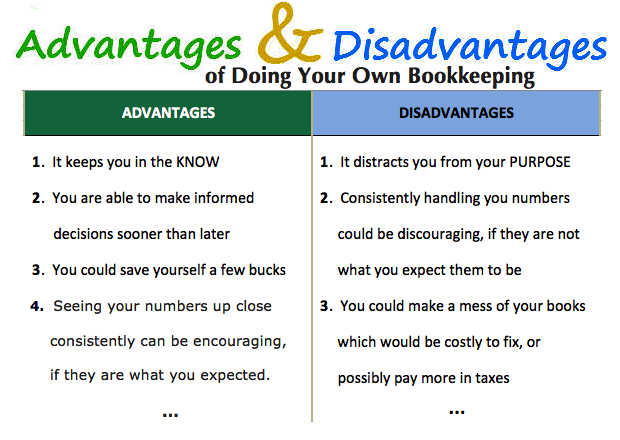 There are five (5) key questions that must be answered before making a decision to do your own bookkeeping versus hiring a professional:
How big is your business?
What is its growth forecast?
How complex are its finances?
What can your business afford?
Are you competent and knowledgeable enough in this field to handle your own bookkeeping?
If you can answer the abovementioned questions honestly, your decision should be much easier to make. So, weigh the pros and cons of doing your own bookkeeping and make your decision.
If you are using a bookkeeping and accounting software such as QuickBooks, and you have a basic understanding of accounting principles as well as a CPA on board, you can indeed opt to get your own bookkeeping done. Also, bookkeeping can be time-consuming, but if you are equipped with the right accounting tools and knowledge, your bookkeeping time can be greatly reduced. Here are some advantages and disadvantages of doing your own bookkeeping:
Advantages
1) You are face to face with your numbers all the time, and as such you remain "in the know" and are able to make changes quickly – if necessary, to improve your business bottom line. Of course an efficient and knowledgeable bookkeeper will be able to give you reports explaining your business stance; however, it will not be the same as you intermingling with your numbers on a daily basis. You will make better business decisions because you always know where you stand financially. At any given time, you know who owes you money as well as what bills you need to pay. If a supplier or vendor has made an error you can act on it immediately instead of weeks or months when your bookkeeper brings it to your attention.
2) You are able to make informed decisions sooner than later. Doing your own bookkeeping gives you better control over your business dealings.
3) You could save yourself a few bucks.
4) Seeing your numbers up close consistently can be very encouraging if they are what you expected, or even better.
Disadvantages
1) Bookkeeping can be a real distraction to your business' main purpose. You take time away from important business dealings that could be enhancing and improving your business bottom line. Bookkeeping is very time consuming and it happens to be one of those back-office tasks that can be done by someone else. Taking on the behind-the-scenes task of bookkeeping may not be the best use of your time. You can instead use this time to innovate, focus on making your product or service better, and grow your customer base. A huge part of a business success is maximizing its time.
2) If you do not have bookkeeping and accounting knowledge, you can make a mess of your books which can be costly – either to hire a professional to fix it, or you'll pay too much in taxes. Bookkeeping and accounting can be learned; however, it is likely that you do not have the time to spend educating yourself on accounting basics o probably don't want to. You would also need to master an accounting software which could turn into a very time consuming task.
3) Seeing your numbers up close consistently may be discouraging if they are not what you expected them to be.
Should You Do Your Own Bookkeeping?
Ultimately, the decision will be determined by how valuable your time is to you as well as your answers to the abovementioned questions. Be strategic in how you spend your time and money! Focus your time and energy on the areas of your business that you are truly passionate about. If bookkeeping and accounting is not a part of that passion, you can always delegate your bookkeeping. Maximize your time, and realize your business' full potential!